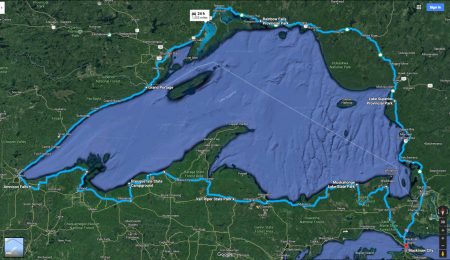 I've worked out a scooter route around Lake Superior, based on the assumption that I can get dropped off at Mackinaw City. (Or St Ignace if it's too windy to ride across the Mackinac Bridge.)
There are a few places where the route doesn't follow the lakeshore. One of them – the Keweenaw Peninsula – is a simple time-saver. I'd love to ride up to Copper Harbor again, but that'd be another day added to an already long ride. The others are a matter of there not being paved – or in some cases, any – roads that go through there.
I have 7 campgrounds selected: 3 in Michigan, 1 in Wisconsin, 1 in Minnesota, and 2 in Ontario. But I'm thinking of spending two nights at Grand Portage MN, so I can take a day trip to Isle Royale.
Some of the highlights along the way by day: 1) Tahquamenon Falls, 2) Pictured Rocks, 3) Porcupine Mountains, 4) Apostle Islands, 5) Lake Superior shoreline, 6) Isle Royale, 7) Thunder Bay, 8) Pukaskwa National Park, 9) the Soo Locks. Most of the places in Michigan would be second (or more) visits, but much of the route would be different from what I've ridden before, including a wilderness route through the Pictured Rocks National Lakeshore.
This trip would do justice to none of the places I'd be riding through. But I'd rather get a drive-by look at the Apostles (for example) than not see them at all. I've also promised myself a proper visit to Isle Royale in 2022, for the 20th anniversary of my first week there. (There's still one major trail loop I haven't hiked.)