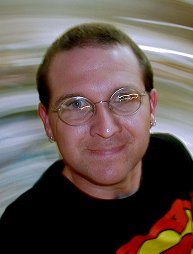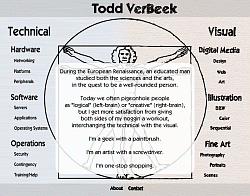 Name: Todd J. VerBeek


Professions: Computer/Network Technician, Web Site Developer, Writer, Illustrator.


Schools attended:

Kendall College - BFA with honors, Digital Media/Illustration


Hope College - BA cum laude, Computer Science


University of Aberdeen

City High School (public) see also: The G-Files


Residence: the mixed-income, mixed-race, mixed-use, urban neighborhood of Eastown, in Grand Rapids, Michigan.


Hobbies:

antique computers

travel, bicycling, backpacking,


writing (essays, reviews, fiction),


comic books (anything from Superman to Stuck Rubber Baby),


illustration, design, photography,

movies (especially indie and art films),


philosophy, law (especially civil rights, copyright/trademark),


a little bit of hell-raising here and there.


Favorite radio stations: WYCE 88.1FM (eclectic!) or WVGR 104.1FM (news and info).


E-mail: "contact me AT Todd VerBeek .com" (but without the spaces)