Most of the ride the rest of the way was windy. The current weather report says 15mph from the west, so the fact that I was able to keep my speed up to 35mph most of the time was pretty good, I guess. My gas mileage sucked, though: I filled up this morning in Pinckney, then again in Portland, and I'd gone only 80 miles on a gallon of gas.
I took a more rural route to Lansing, bypassing the traffic on Grand River Avenue, and taking lots of roads between cornfields. I took a route around the south side of Lansing instead of through the city center, but that was still kind of trafficky, kind of like riding 44th Street instead of Michigan Avenue in Grand Rapids.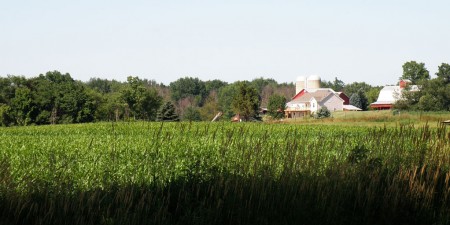 Between Portland and GR I spotted Bambi just a little ways off the road in a field. I pulled over to take a picture, but by the time I got my camera out, he'd run off.