I stopped at the dock for the Badger to cancel my reservations with them. That was just before 8:00am, which is when they ask you to arrive for boarding for the morning crossing. There was already a line of a couple dozen vehicles (including a couple motorcycles) waiting to get loaded. Apparently it's a lot busier for the daytime crossings than for the overnight I did four years ago. I only get $25 back for today's ticket, but I'll get the full refund for the crossing I was supposed to take 9 days from now.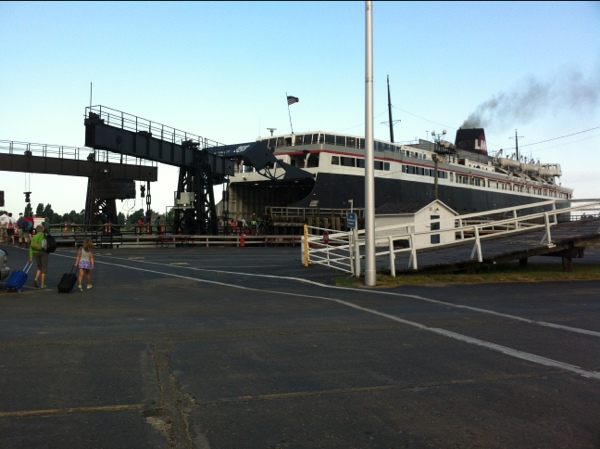 You can't see it well in this photo, but a cute little touch is that they have the emblem for US-10 on the entrance to the ship.  US-10 officially ends at the dock and resumes going west in Manitowoc.
To keep it simple, I mostly stuck to the obvious route home. After a detour for the lovely Lakeshore Drive I took yesterday on the way into Ludington, I stuck to Business US-31 (the traditional roads running parallel to the highway itself), passing through Hart, Shelby, New Era, Rothbury, Montague, and Whitehall. After getting through Muskegon (an ugly multilane highway) and Muskegon Heights (someone please give them some money for roads), I took Airline, Apple, and Leonard, a series of roads roughly paralleling I-96, through Fruitport, Nunica, Eastmanville, and Lamont. Leonard Street, of course, becomes one of the major thoroughfares of Grand Rapids once it enters Kent County.
There was a stiff wind of 10-15mph from the SW most of the time, which often slowed me down.  Even so, stopping only for gas and the occasional navigation assessment, I made the trip in a little over 4 hours. I know, I know: it's foolish to ride that long without a break, for the bike's sake if not my own. I wasn't in the mood for sightseeing today.  I abandoned my plan to faithfully retrace the more scenic route I took on my way out of town on my very first excursion… because it isn't time for that yet.
Once home, I cancelled the state park reservations that I could.  I was too late to cancel tonight's; if I'd been more decisive I could've cancelled it last night.  And I don't get a full refund on those that I could cancel.   My reservations for the Isle Royale Queen are just far enough in advance that I'll be getting an 85% refund.  So that's some money lost, but not a lot.  For what it's worth, the repairs on the scooter shouldn't cost much.
So.  Here I am, home.  9 days early.  Guess I'll unpack, which will take 10 minutes.  Then un-hide the valuables I stashed, in case someone noticed that I was away from home: another 10 minutes.  I have a family get-together on Sunday that I was going to have to miss.  Then I suppose I'll go back to work on Monday, and use those Planned Time Off days some other time.