In previous years, I've stretched the "MI way" concept a bit by venturing beyond Michigan a little: riding several hours through Wisconsin to catch a ferry home, taking a day trip into Ontario to get to Lake Erie, or crossing the border into Indiana to ride through Amish country. Upon finishing my tour of Michigan counties, I choose a route through northern Wisconsin over a less attractive road in the UP. And to finish my circumnavigation of Lake Michigan, I did a ride in which the only states I slept in were Indiana, Illinois, and Wisconsin… a ride I ironically dubbed "INILWI way". But they were all "around Michigan".
This time I'm stretching it to the breaking point. And I'm calling this ride "Totally INKY".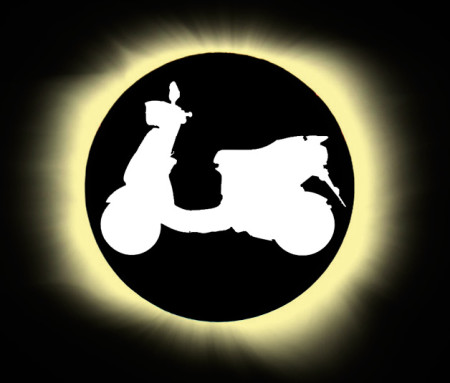 I'm going to leave the state and lake of Michigan behind, and take a trip the length of Indiana into Kentucky, to see the total solar eclipse on August 21. "Total eclipse" + "IN" + "KY" = "Totally INKY".
It's about 1000 miles round-trip. My plan is to spend two days riding down to the southern end of Indiana, then on the day of the eclipse ride the last 100 miles or so to the total eclipse zone in Kentucky and back to Indiana, then spend two more days riding home. So I'll leave Grand Rapids on the morning of Saturday, August 19, see the sky turn black in the middle of the day somewhere around Hopkinsville KY on Monday the 21st, and get home the evening of Wednesday the 23rd.
I've seen a solar eclipse before: a pretty good partial one when I was in middle school. But I've never seen a total eclipse, and this is one of the few that will happen so nearby in my lifetime. It's crossing the US from Pacific to Atlantic, but the point of the longest eclipse – 2 minutes, 40 seconds – is also the point on that path nearest where I live. One way or another, I really want to get there.
Theoretically I could do it as a day trip by car… a very long day trip, starting before dawn and returning after midnight. Or I could do it as a two- or three-day trip by car… and if something horrible should happen (such as getting a full-time job) that prevents me from doing it by scooter, I'll fall back on that. But the plan for now is to do it… my way… I mean… totally inky. Or something.