Like I said: more farmy.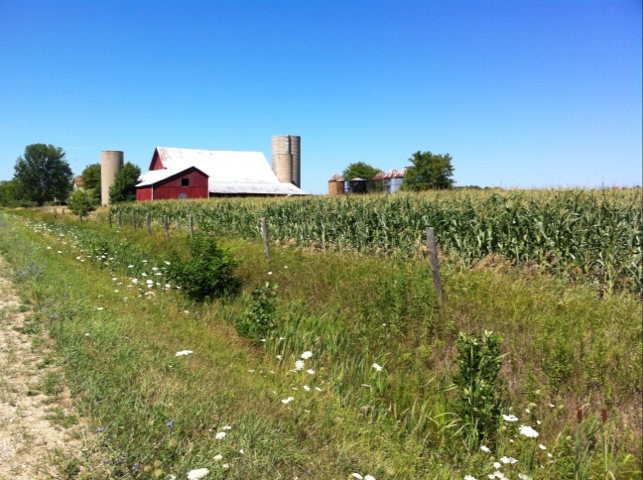 The last half (third?) of the day's riding was – as anticipated – less scenic than the rest. In fact as soon as I turned south onto M30 out of Rose City, traffic got a little ugly. It isn't just the number of vehicles coming up behind, but the number oncoming as well, because the latter limit the ability of the former to pass. Needless to say, I took to the county roads as quickly as I could.
One car that refused to pass me for about a quarter mile eventually turned onto a side road – just the patient sort, it seems – where I briefly glimpsed him startling two deer in the road. I also saw a small herd of wild turkeys, and came within 10 feet of colliding with a crow in flight.
On one of the country roads (the one pictured above, on fact) I met a little black covered buggy driven by a young woman in a turquoise dress. I smiled and nodded; she briefly waved her hand, smiling politely.
A total of 185 miles today, in 9 hours of riding. That includes all time on sightseeing breaks, lunch, refueling, etc. So pretty much in line with my 20 miles-per-hour rule of thumb for how much territory I can cover in road-trip mode.
Black Creek State Forest campground is what I expect a state forest campground to be: quiet and rustic. I have t explored the whole grounds (I just took the first spot that looked amenable) but I only see one other camping party. Unsurprisingly, there is a creek and a forest.