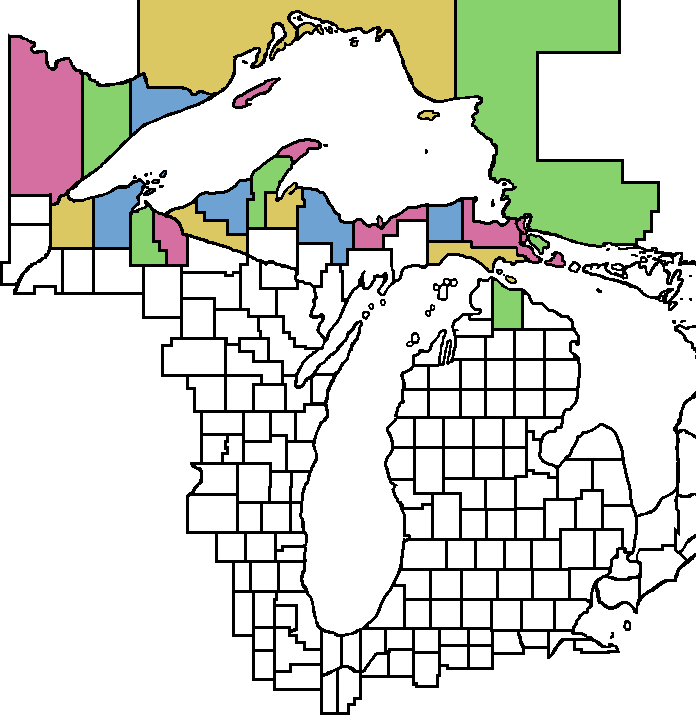 When I started doing this county-by-county map, I just grabbed a handy map of Michigan counties and started filling them in. I had no idea that I would eventually have to draw a bunch of counties in other states and provinces. And that not everyone is as fond of simple grids as Michigan's founders were.
Another difference is that Michigan counties are all about the same physical size, regardless of how many people live there, which is how you get Wayne County which once had more than 2 million people, and Keweenaw County with barely more than 2 thousand. Ontario, on the other hand…. I can't even fit their rural districts (they don't call those "counties") on my map. OK… I get it. It makes sense: you need people in every county/district to have a government. But you're spoiling my map. I hate letting the map trail off like that – like "here be mooses" – but you leave me no choice.
Anyway, here's the county map for this ride. The one county in the Lower Peninsula is the south end of the Mackinac Bridge, where I plan to be dropped off and picked up. The counties we drive through to get there don't count.
The skinny pink county in the middle of the UP (including Munising) is Alger. I had to zoom in on a map to determine that I wouldn't be wandering into Schoolcraft County to the south of it, but the road I'll be taking misses it by about 100 feet. There's a dirt road I could take to ride into Schoolcraft, but that's cheating a bit more than I like to do. Besides, I've already been there.
The coloring of this map makes it look like I'll be riding all the way up the Keweenaw Peninsula, but I'll actually be bypassing it entirely. The reason that county is colored is because it includes Isle Royale, where I'll be hiking for about four hours. That counts.
I'll be spending an entire day all within Thunder Bay District, the big yellow one along the top. (It keeps going another couple hundred miles to the north.) It'll probably be about 48 hours elapsed. Then I'll spend another 24 hours or so in Algoma District, the green one. By contrast, back in 2010 I took a day-trip into Ontario to get to Lake Erie, and ticked off two of their more densely packed southern counties in less than an hour. For the U.S. portion of the ride, I'll be in 3 or 4 counties every day.