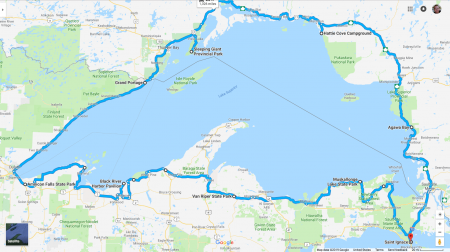 It's official: my scooter circumnavigation of Lake Superior is back on, for 2019. Above is the route I've mapped out, which is almost the same as the route I planned last year. I've changed one campground in Ontario to accommodate visiting a spot in Pukaskwa National Park that I wasn't aware of last year.
It's still a 9-day tour of three states and one province that will include such landmarks as the Mackinac Bridge, Tahquamenon Falls, Pictured Rocks, Canyon Falls, the Porcupine Mountains, the Apostle Islands, Isle Royale, Thunder Bay, Chigamiwinigum Falls (new), Agawa Bay, and the Soo Locks.
What makes the trip "official" is the fact that I've just reserved camp sites for the first and last nights of the trip. Muskallonge Lake State Park is undergoing renovations this summer, so only a portion of the campground is promised to be open in July, so I figured I should make a reservation while I could. There were a few sites that had a gap of one night on the 12th, so I took one. At the other end of the trip, the lakeside sites with a view of the Mighty Mack at Straits State Park were filling up, so I picked one that had a one-night gap on the 20th.
I'll be keeping an eye on the other campgrounds along the route, and make reservations if it looks like I might need to. But I'm trying to save a little money (the parks charge fees for reservations) and keep my flexibility if I can, especially after I had to flush some reservations down the drain when I had to cancel last year.