About the site
Wednesday, 2nd June 2010; 2:03 pm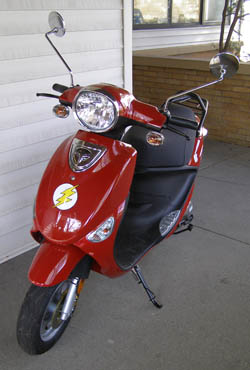 This site documents my scooter travel around Michigan. I've done a bunch of weekend excursions, and several big week-long trips, taking me to every county in Michigan, all the way around Lake Michigan, and more. This has all been done riding either "Flash", my 50cc Genuine Scooter Company Buddy, or "Flash II" the 125cc version of the same.
The goal of these trips is mostly for their own sake… as a vacation. Other "long distance" scooterists (some of whom have gone much farther than this) have done it as fund-raising stunts, as consciousness-raising efforts, or just to get from Point A to Point B. I'm doing it because I want to get out and go somewhere. But there's something of a theme to it, which is where the name "MI way" comes from.
I'm a native Michigander, so I already know it's a beautiful place. It's not just the Motor City and economic blight. But it was already in economic recession before the stock/banking/real-estate scams all broke, and I want to spend my modest vacation dollars here. It's not the same level of tourism Mecca as Florida or California or Hawaii, but it really has a lot to offer. My rides and this site are one small testament to that.
Aside from the spelling pun of "MI" (the state's postal code) for "my", "MI way" refers to this being my way of traveling. It's not on the highway. My initial mode of transportation was a 50cc scooter, which wasn't legal for riding on interstates. I consider that a feature, not a flaw. It puts me on smaller, slower roads and makes for a more relaxed, more rewarding trip. The places I stay are mostly state parks and a few state forests. Although I prefer pitching my tent in more secluded and wild settings, that's not practical with a scooter. That being the case, Michigan state parks are about the next-best thing, and a lot closer to what I like than the many private RV campgrounds that resemble parking lots or residential trailer parks.
These are journeys that are about the journey, and I spend them riding, taking in the landscape, making photos, and blogging it here with my iPhone.