(I'm catching up a little here from this morning.)
I got up before 7 this morning and went to the bay to watch the sun rise over the lake. (You can do that here.) I was surprised to discover that the name of the campground makes moe sense than I thought. I assumed it was call Bay Furnace because it was between Furnace Lake and the bay. In fact it's named for the ruins of a huge iron smelting furnace on the site, the last remaining from the mining heyday of the UP.
I was unsure about the viability of the route I'd chosen at home using teh Googol, so I asked one ofthe forest service employees if Autrain Forest Lake Road was paved all the way. He said that no it was a dirt road. But the satellite images had all the telltales of pavement: darkish color, a lighter shoulder, and even a hint of a yellow centerline. So I scooted out to it and asked the young woman at the coubte of the gas station near the north end ofthe road, and she assured me that it was paved. She was right. I'm guessing the guy at the campground misunderstood which road we were talking about. The gas station was an old general store with "antique" pumps that not only didn't take credit cards (pretty common in the UP) but had spinning wheels for the meter. I had to do the math to figure out my gas mileage because it only said "0.7" which isn't precise enough for a 1gallon tank. The road turned out to be a highlight of the day: winding through the woods with almost no traffic. I even ran across a waterfall.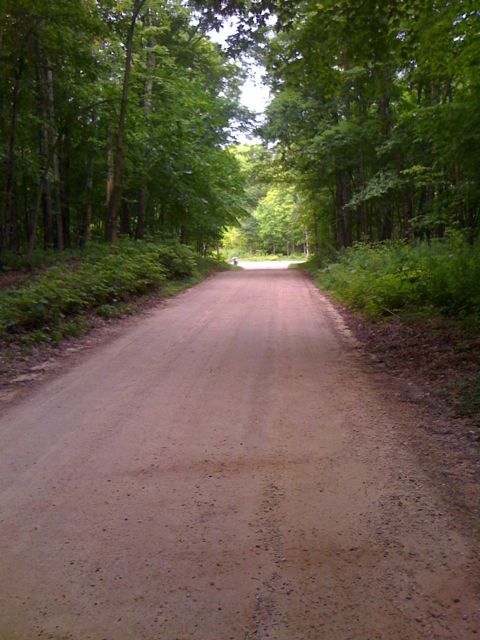 From then on the riding got a bit boring. Not bad, mind you, just unentertaining, riding for miles and miles on a straight line. Traffic wasn't bad, so cars etc could pass quickly and easily. The weather got a little wet, however, raining off and on as cloud systems blew through. That's another thing: there was a pretty persistent wind of 5-15mph out of the south (or so). At a wind-diminished speed of 35mph plus 15mph wind plus no sun plus temps in the 60s, it got chilly. Still, with not much to stop for (just gas again) I made good time. (I almost stopped for a buck on the side of the road, but he would've fled into the woods by the time I got a camera out, so I didn't try.)
I finally stopped for lunch in Escanaba, at an old-car themed place called Hudson's. Good sandwich, but the pile of fries was a little overwhelming, and I actually left some on the plate.